Pitch & Putt Course
The Pitch & Putt Course is an absolute delight for short game enthusiasts. This unique 9 - Hole, Executive Par 3 course has been designed within a coconut farm, by incorporating water bodies and sand bunkers to make it an interesting & challenging course to play. A set of golf clubs to play this course is available on hire, if required. Golf Balls and other golf accessories are available for sale at our Pro Shop.
NOTE: Only experienced players with valid handicap will be permitted to play in the Pitch & Putt Course .
Highlights:
• 9 Hole Executive Par 3 Course
• Uniquely designed with coconut trees, water bodies & sand bunkers
• Golf Clubs available on rent
• Absolute delight for short game enthusiasts
Timing:
6 AM – 5 PM. Open all days of the week, including public holidays
Rates:
Click here for Rates
Course map: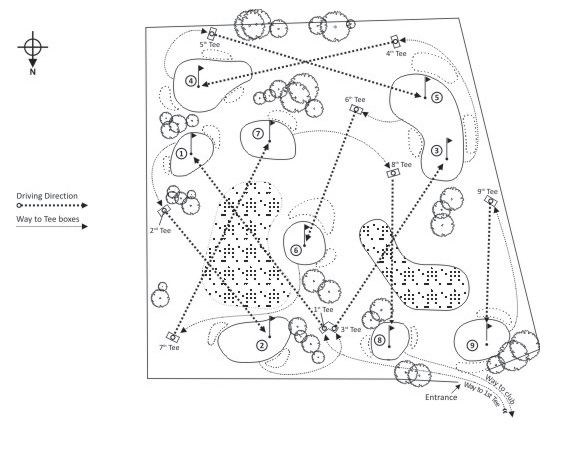 Click here to download PDF of Score card here
Pitch & putt Course Rules:
1. Course Boundaries: Defined by the protection nets around the course. A ball lying outside the net is out of bounds.
No relief for swing or stroke from nets and protective structures.
2. Water Hazards: Rule 26-1 applies. Ball to be dropped behind the hazard or shot may be replayed.
3. Wrong Greens, Green slopes and Tee boxes: Compulsory free relief not closer to the hole should be taken.
4. Pump house, concrete structures & ropes are integral part of the course. No relief.
5. Repair pitchmarks, divots, and rake bunkers.
Suggested Playing Conditions
1. No preferred lies.
2. 5 Ball and above not allowed.
3. Players are strongly urged not to use golf clubs that will drive the golf balls beyond the protection nets in the pitch & putt course. Violators will be stopped from playing immediately.
4. Only Golfers with valid handicap will be allowed to play.
5. Please use Tees on the Tee Boxes.
6. Practice shots are not allowed on the course.
7. Golfers are strongly urged to watch for other players on the course before playing a shot and when necessary are required to adequately warn fellow players on the course.